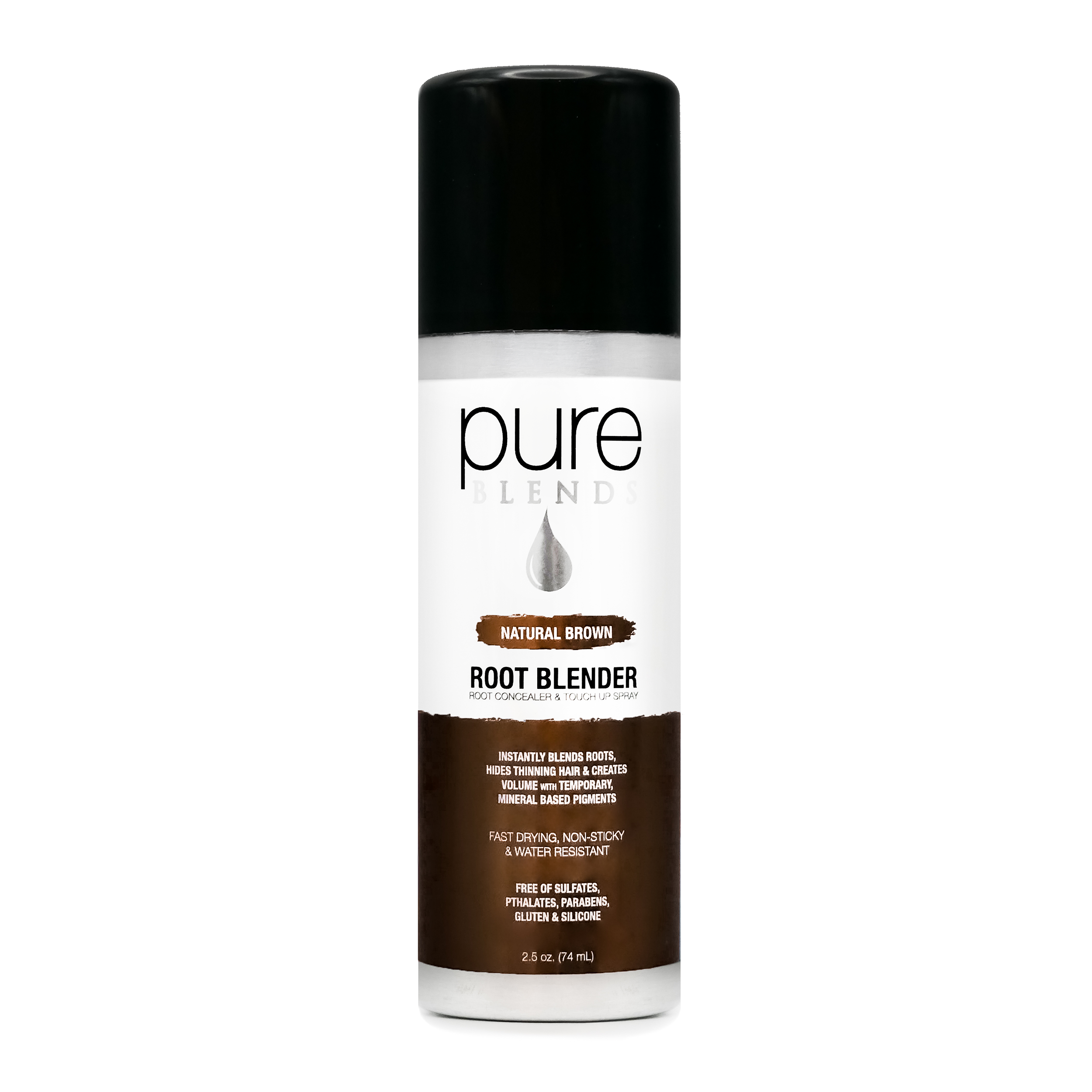 Root Blender Root Concealer & Touch Up Spray
Save

Liquid error (snippets/product-badge line 32): Computation results in '-Infinity'

%
Cover up those roots & revitalize your hair color service! 
Pure Blends Root Blender Concealer & Touch Up Spray is a mineral based, temporary color spray to cover regrown roots of all colors and conceal thinning spots on the scalp. Root Blenders can cover both lighter and darker hair colors regrowing at the root to match your colored hair and eliminate unwanted tones. Just shake & spray to quickly cover up and blend your roots to your desired hair color. Whether it is your natural brown regrowth under your newly colored blonde hair or a few grays showing through against your black colored hair, these root concealers will cover up and blend together to match your desired color. 
How to use: 

Shake can and spray from 4-6 inches away from your head. With steady and light pressure hold down spray nozzle directed at desired area with a side-to-side shake motion so that you do not concentrate too heavily on one area. Spray for about 3 seconds, let dry and examine targeted area to see if the area is covered fully. If area requires more spray, re-shake can and apply again.
Pure Blends Root Blender & all Pure Blends Color Depositing & Color Support Products use a complex Fade Protection & Color Correction System to protect the investment of your color serviced hair. For the best results make sure to alternate using Pure Blends Neutral Coco-Colada Shampoo and Conditioner between color shampoo or conditioner washes. Pure Blends is created with pure hair color powders and an herbal blend of Coconut Oil, Violet, Eggplant, Marigold, Keratin, and Collagen. All Pure Blends Products are Sodium Chloride, Sulfate, Paraben, and Gluten Free, but may still cause skin irritation on some individuals. Performing a Skin Allergy Test 48 hours before use is recommended. 
Keep life colorful with Pure Blends!
Skin Allergy Test: With soap and water, wash an area the size of a quarter in the bend of your elbow. Pat dry with absorbent cotton. Apply product to test area, using an absorbent cotton-tipped applicator. Let test spot dry. Do not wash, cover or disturb for 48 hours. Examine test area periodically over the next 48 hours. If you experience any reactions - such as redness, burning, itching, swelling, skin abrasion, eruptions or irritation in or around the test area, you should NOT use hair color until after consulting a doctor. If you experience any such reaction during application, rinse immediately and consult a doctor. You should NOT use hair color again until after consulting a doctor.